Warehouse Floor Line Striping | OSHA Safety Marking
LOCUST GROVE Warehouse Line Striping
We are one of the Locust Grove's most trusted choices for warehouse floor marking and line striping! Our crews work 7 days a week, to most conveniently service our customers. For over 29+ years, commercial property managers have trusted us with their large warehouse and distribution center floor marking projects.
Floor line striping in warehouses communicates that your facility is safe, organized and efficient.  Good floor marking systems will include lines to delineate lanes, aisles and paths of egress. Floor line markings are also used to indicate boundaries for freight storage and staging areas.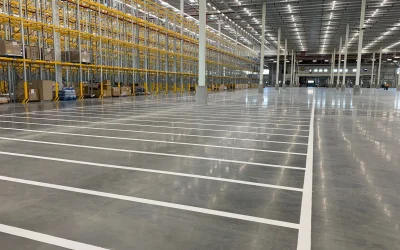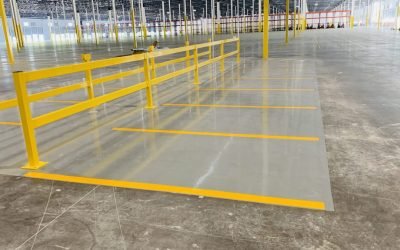 Since 1994, our crews have provided the safe installation of Locust Grove warehouse floor striping to help our customer's facilities operate safely and efficiently. Our crews have installed floor markings for facilities all over Georgia and adjacent states. Most of our projects are new construction jobs, so we are responsible for the new layout and installation of the coatings in facilities ranging from 300,000 to 5,000,000 square feet.
Warehouse Floor Shot Blasting
In addition to Locust Grove warehouse floor striping, we are often also tasked with prepping the concrete surface prior to the installation of the floor striping. Warehouse floors are often very smooth surfaces, to facilitate cleaning. Shot blasting (or bead blasting) is a process that involves a specialized piece of equipment throwing metal shot (beads) at the concrete surface to create a profile for the marking coating to better adhere.
LOCUST GROVE GA WAREHOUSE FLOOR STRIPING serviceS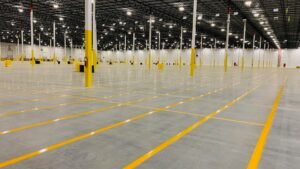 Standardizing floor marking colors and patterns throughout your facility will improve communication, efficiency, and safety. This chart suggests common industry practices. While OSHA does publish guidelines for marking passages and aisles, there are no mandates for standardized color usage. For more information refer to OSHA Standard 1910.22.
WHAT IS A 5S SYSTEM
The 5S system is a lean tool. A set of processes that improve workplace efficiency throughout an organization. At its most basic level, 5S eliminates waste and helps facilities save time through this five step cycle. From identification and sorting to cleaning and standardization, 5S can help you achieve peak performance in your workplace. 
Japanese Terms  |  English Translations  | 5S Terms Definitions
Seiri                          Tidiness                           SORT Remove unnecessary items from the work area.
Seiton                       Orderliness                     SET IN ORDER Set things in proper places for quick retrieval.
Seiso                        Cleanliness                     SHINE Clean the workplace. Everyone should be a janitor.
Seiketsu                   Standardization             STANDARDIZE Implement consistent processes and workflow.
Shitsuke                   Discipline                        SUSTAIN Make it a way of life. This means commitment.
Improved organization and efficiency using warehouse floor marking, means workers and visitors to your facility will stay safe and productive.
Your facility will be able to: streamline systems, designate perimeters, create safe walk areas, improve visibility, optimize workflow.
Since it is very time consuming and expensive (labor costs) to stage pallets for floor marking, you should select the longest lasting product, so the frequency of application can be reduced. For projects in occupied/operational buildings, the best process (profile concrete via diamond grinding or shot blasting) and product (industrial grade epoxy) should be used for the most longevity. Since the application (labor) is essentially the same, there is significant value realized going with the most durable product. For a warehouse / forklift environment, the correct product is epoxy.
If you operate a distribution center and also need parking lot striping or stenciling for your truck court, we can help!
With 29+ years of experience and resources, we can handle the BIG jobs!